Must be enrolled in FordPass Rewards to earn or redeem FordPass Rewards Points. Points are not redeemable for cash or check. See the FordPass Rewards Program terms and conditions at FordPassRewards.com for information regarding expiration, redemption, forfeiture and other limitations on FordPass Rewards Points. Offer valid 2/1/23 to 3/31/23. See Service Advisor for vehicle applications and offer details through 3/31/23. Motorcraft® is a registered trademark of Ford Motor Company.*

*Dealer-installed retail purchases only. Limit one offer per vehicle. $100 tire rebate or 25,000 FordPass Rewards Points on Michelin, Pirelli and Yokohama. $70 tire rebate or 23,000 FordPass Rewards Points on Goodyear, Dunlop, Bridgestone and Toyo. $60 tire rebate or 21,000 FordPass Rewards Points on BFGoodrich and Firestone. $50 tire rebate or 21,000 FordPass Rewards Points on Nitto. $40 tire rebate or 21,000 FordPass Rewards Points on Uniroyal. Medium/commercial Toyo tires are excluded. Must be enrolled in FordPass Rewards to receive FordPass Rewards bonus Points. Points are not redeemable for cash or check. See the FordPass Rewards Program terms and conditions at FordPassRewards.com for information regarding expiration, redemption, forfeiture and other limitations on FordPass Rewards Points. Offer valid 2/1/23 to 3/31/23. Submit rebate by 4/30/23 by mail-in rebate form or online at ford.com/service-rebates. ** Cannot be combined with any other tire manufacturer-sponsored rebate/offer. See participating U.S. dealership for vehicle applications and offer details through 3/31/23.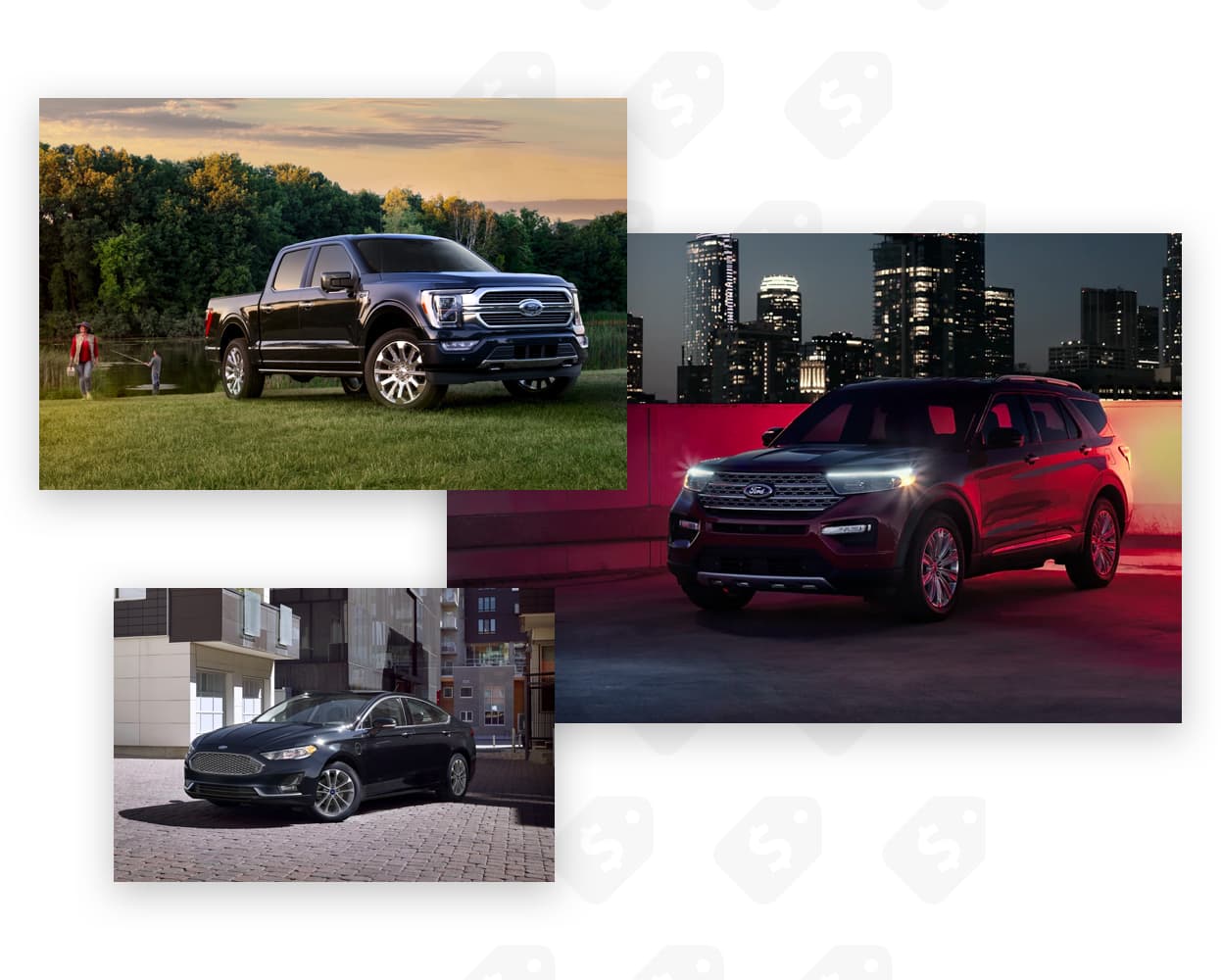 Take Advantage of This Month's Current Offers
Every month Ford releases incredible cash-back offers and special financing rates along with discounts featured in other special programs.

Welcome to Wickenburg's Trusted New and Used Ford Car Dealer!
We Are Your Ford Dealer in Wickenburg
Here at Jones Ford Wickenburg, your premier Ford dealer in Wickenburg, we pride ourselves on putting the customer first. If you're looking for a quality new or used Ford car dealership in Arizona near Wickenburg, Peoria, Sun City, or Surprise, we're the team that you can rely on. In addition to our vehicle selection and pre-order options, we also provide world-class after-sale services, including maintenance, repairs, and parts. No matter what your automotive needs are, we have the tools and the team to meet and exceed them!
The New and Used Ford Car Dealer in Wickenburg You Can Count on!
At Jones Ford Wickenburg, we maintain one of the widest selections of new and used Ford cars, trucks, and SUVs in the area. That's so when our customers come and see us here at the dealership, they find a showroom full of the latest and greatest that Ford has to offer, all gassed up and ready to roll. Not only do we keep an outstanding stock of new and used Ford cars, trucks, and SUVs in inventory, but our team of experts and enthusiasts are here to work with you through every step of the process as you whittle down the options and find precisely the right Ford for your needs at a great price. When you are ready to get started, come and see us, your Wickenburg car dealer, or book your test drive today!
This Ford Dealership in Arizona is Ready to Get You Rolling!
As a favorite used and new car dealer in Wickenburg, we take the health of this community's Ford vehicles very seriously. That's why we offer a full array of preventative and repair services to our customers. From oil changes to tire rotations and all the way up to complete engine restorations, we are the local area Ford experts you can trust. Whether it is new or used, if you have a Ford car, truck, or SUV requiring service near Surprise, Sun City, Peoria, or right here in Wickenburg, we are the Ford dealer to set you right for less. Get in touch to book your appointment today!
OEM Parts Available at Your Ford Dealer in Wickenburg
Third-party auto parts can seem appealing due to their low cost. However, installing them in your beloved Ford can inflict severe harm. Aftermarket parts are not made to fit specific makes and models! They can end up damaging vehicles and creating serious maintenance expenses. You will never find a third-party auto part at our new and used car dealership in Wickenburg. We sell OEM parts exclusively, whether you install them yourself or rely on one of our talented technicians. If you go the DIY route, use our convenient parts order form!
Let Us Know What We Can Do For You Today
Want to browse the models available from your Wickenburg used and new car dealer? Perhaps you wish to apply for financing, schedule a test drive or request maintenance services? Whatever your needs are, this Ford dealer is here to make your life easier.
So what can we do for you today?
Contact Us
RECENT GREAT EXPERIENCES!
Everyone at this dealership from the top management on down are exceptional people. They go above and beyond in every regard. I am from Michigan and had an emergency while visiting Arizona and everyone at Jones Ford were kind and helpful. I ended up buying a gently used car and drove it home to Michigan. I am so grateful to all the wonderful people there. A special shout out to Brian, April, Sean and Tim. I have told anyone who will listen to buy their next car from Jones Ford!! Thank you Jones Ford, Wickenburg!
This is our fourth vehicle from Jones Ford and we drove from payson 2+ hours to buy from them. They were very responsive and gave us a good deal even though had to order the F150 from Ford to get what we wanted (due to the post pandemic shortages not due to the dealership). While waiting for the paperwork test drove a bronco and a lightening. Excellent dealership and staff!!! Sean Lowry our salesman did a fabulous job
We had a super experience with Jones Ford in Wickenburg. They were very aware of our needs, They helped us find a great car! The office is efficient and each person was extremely kind and helpful. Buying a car from Jones Ford was an amazing experience. They are so honest and genuinely caring. Thank you Jones Ford!!! Joe and Marilee Clark
This dealership is a great place to do business.They treat you like family.No bs pricing.Fair trade in allowance and quality service.Sean is a great sales consultant to do business with.I have purchased many vehicles in my lifetime and dealerships like these are far and few between.Thank you again. R.M
Jones Ford Wickenburg has the best sales people that I have worked with in purchasing a vehicle. I am also very happy with the finance department for always making it possible to leave with my chose of vehicle. I highly recommend Jones Ford Wickenburg. I highly recommend Chris Gates or Sean Lowry to help you out with your next vehicle purchase.
My wife and I have been buying a new vehicle about every 2 to 3 years for a very long time and the purchase of our new 2020 Ford Ranger at Jones Ford in Wickenburg was the best new car sales experience we have ever had. I requested information about a specific vehicle that they had in inventory and had an almost immediate response from the general manager and a sales representative. I asked the sales rep several more questions and all were answered very quickly including questions that he needed info from the service department in order to respond. My wife and I drove to Wickenburg the next day to do a test drive and get a trade in offer on our current car. The initial offer was acceptable and we purchased the new Ranger. We completed the entire transaction in less than two hours. The sales rep was Rick Van Hazel. Finance was excellent also. What a great car dealership. The 40 mile drive was well worth it.
We have bought several cars from Jones Ford through the years and Brian always gives us an exceptional deal with excellent customer service. He is honest and easy to work with and really looks out for his customers.
I've purchased many cars in my life. Jones Ford Wickenburg was one of the best purchasing experiences I've ever had. I ended up buying a pre-owned Jeep Wrangler. During the buying process, I got treated well and didn't have to deal with the usual dealer pressure or hi-jinks. We negotiated quickly, settled on a price that I was thrilled with. If that wasn't enough, the folks at Jones even made sure some after the sale items we discovered were taken care without a hitch and made sure I was kept up to date every step of the way. They even delivered the vehicle to my house after the sale was done. Sean Lowry made the process smooth, followed up on every single thing he said he would, and manager Matt Dahlin went above and beyond to make this an awesome experience! I don't know why more dealers don't take care of customers this way. I'll definitely go back to Jones for my next car purchase.
Great deal and good service. I bought a jeep in February at a better price than I could find anywhere else. It had less than 15,000 miles on it and they went through it carefully. It has been a pleasure to drive and the employees there were great.
I bought a car from here a couple years ago and it was the easiest process and has been one of the best and reliable cars I've had. I loved the environment at the dealership and really felt I was being taken care of. Definitely recommend!!
I brought my vehicle into Jones auto centers to have it serviced. I had taken it to big O And another company that couldn't figure out what was wrong with it. Jones Ford was able to not only fix my car But had it done in an hour.
I came in to buy a truck after Days and days of headaches from working with Phoenix dealers. They didn't have the exact truck that I wanted, But they located And brought it in from a different state. The day it got there I was in and out with a new truck in about 2.5 hours! They saved me enough money to throw a lift on it too. 10/10 Thank you guys.
I purchased a pre owned vehicle there in January 2017. They told me they would throw in two free oil changes. I did two oil changes myself and i received a notice for a free air bag update. I made an appointment and brought the vehicle in and asked about my free oil changes without any paperwork and that was promised 2.5 years ago. They told me no problem we will change your oil and filter for no charge. I received a call stating my battery terminals were corroding and i stated i would take care of that myself. The mechanic told me no problem and would go ahead and clean them and spray a prevention material on the terminals. I would buy another vehicle from Jones Ford because they are honest and not pushy. Also honoring an agreement made 2.5 years ago without question shows the customer is important to them.
Have dealt with Jones Ford in both sales and service and have had great experiences. Just picked up the new Ranger. David F. was very knowledgable and helpful. He goes out of his way to make the sales experience enjoyable. Thank you David and Jones Ford.
Jones Ford Wickenburg is every buyers hope and dream as to what a dealership should be. We drive 30 miles to use their services. They value my time and keep me informed.
they chased down my electrical wiring problem ,, repaired said problem and a very reasonable price, this is the 2nd time I have hard my Ford 250 super duty in to Jones and both times I have been extremely satisified,,,,
After I had a flat tire AAA put on the spare. Later my car wouldn't start so I called AAA again and this time they sent a tow truck and it took me to Jones Quick Lube. It was closing time but Service person Mike told me they would phone at 9AM the next day and let me know what was wrong. I also wanted them to repair my flat and put that on and look over the car. At 9 am Mike called, told me it was only a wire from the starter that came off, he also recommended a new air filter. My car was ready to go at 10 AM the next morning and even though I was a woman alone they were very honest and did not add any thing to my bill.
Pulled into their Quick Lube location in Wickenburg Arizona at 7:55am before their opening hour. They helped me out immediately as Service Writer Ben took they information and their Technician Jorge made the repair. Staff acts and preforms in a very professional manner. Vehicle was returned in a clean condition. An effort was made to look up the specific's of the vehicle as it has specialty tires with a gel lining for reduction of road noise. Kudos to Facility Manager Mike and his staff... P.S. Had to list vehicle as recreational vehicle due to no listings for Tesla's...
I went to Jone's Quick Lube and had two tires replaced on my Rv. Ben was my contact and the fellow who did the work were thorough. Clean service area and customer waiting area.
Promptly got vehicle in for service. Recommended additional item needed and quickly completed service. He was friendly and courteous throughout the job and promptly handled billing.
I was taken care of immediately and kept aware of the progress. I appreciate the friendlyness of all the service staff. Thank you so much.
Thank you Jones Ford for addressing the issues with my Jeep that I was not aware of. I heard some squealing by my back tires and thought it was sand in my brakes and was not aware that they were metal to metal. I originally had gone to Jones Ford for an oil change. Service Writer Brent helped me with this need and my safety in mind. Thank you again- I would highly recommend.
Always an excellent experience!Very honest and great pricing on all services.I have absolutely no plans of taking my vehicle anywhere else!!!Thank guys for keeping my car in tip top shape!
Decent place to get your oil changed. Also had a brake job done at a very reasonable price. Mike the Service Manage is awesome, he'll make sure you leave content.
Very good service, great price, I'll be back, oil and tire rotation , also had them check the ball joints, called me when it was ready, very happy
Jones Ford Wickenburg
555 E. Wickenburg Way Suite A
Wickenburg, AZ 85390
Sales:
888-780-8803
Service:
888-504-7086
Parts:
888-791-2281
Directions